When working with sections there are a couple of common commands that will be part of every instruction guide. These commands are explained below, but to save space and repetition; the 'How To…' guides will just list the command without an image or explanation.
Please review this information before you begin adding sections so you will know the action required when you see the following commands:
Edit the webpage – you would click the Pencil Icon
Save the changes made to your page – you would click the Save button
Open the Page Options – you would click on the sheet of paper icon
Cancel the changes if needed -  you would click the button with the X
Publish – you would click the appropriate button
 Look to the bottom right of your screen for the icons and buttons mentioned above.
 If you hover your mouse over the various icons a tool tip will appear to explain what the buttons do. With the last icon that looks like a sheet of paper, a new menu will pop up with more options: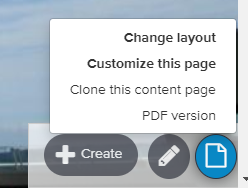 Content Text Formatting toolbar
When you want to add or edit any content text you will type into a box with various toolbar icons that represent your formatting options. 

Other common tasks are explained on separate pages, click on the links below or use the menu options to review how to: